Discuss a good book to read on a trip or movies that make you long to be on the road. Share your recommendations for music - both your old favorites and the new ones you discovered overseas. Brag about run-ins with the hottest upcoming bands.

WORST Movie You've Seen
Added on: July 26th, 2006
Citizen Kane, Closer, Sound of Music, Vanilla Sky, Good Will Hunting, and Unbreakable are all really good movies.

I'd go with A Knight's Tale for worst movie I've seen. Went to it with some (female) friends and walked out of it.
Added on: July 27th, 2006
Thanks to the wonder that is MST3k, I've seen my fair share of bad movies! Unfortunatly, I've blocked most of the titles from my memory.

Recent movie wise, I'd vote Unbreakable. That's the only movie I've ever nearly fallen asleep watching. Awful teen-type movies like that President's Daughter type one with Katie Holmes also fall into the category of "I would like that 90 minutes of my life back, please!"
Added on: July 30th, 2006
So many to choose from!!!!

Ok, there are different kinds of "BAD MOVIES." There are the kind that are bad just because they appeal a wide selection of people without regard to quality or craft. Pretty much anything for tweens and teens.

There are movies that are bad because they somehow got lost in the process. PHENOMENON with John Travolta is a good example. So is it a brain tumor? Or is it really that space thing? They couldn't decide and still the movie got made. The Kevin Costner movie DRAGONFLY was pretty horrible, too. Blah. SOLARIS with George Clooney fits into this catagory, as well.

There are movies that are bad because they move at such a slow pace and NOTHING HAPPENS!!!! Clint Eastwood somehow managed to become famous despite his first film being a Spagehetti Western called FIST FULL OF DOLLARS. It takes him 10 minutes to walk across the room. Five minutes are spent focusing on the water dripping onto a cowboy hat. They shoot at each other now and again and, Voila! A classic Clint Eastwood Western.

There are some movies so horrendous that they are immediatly erased from our memories. Unfortunatly a vague resdue from these flops still remain lodged deep in our brains. The image of some dude in leopard thong occationally pops into my head. I don't remember the movie, but I wiSH the movie would get out of my head. A few years ago there was a Rene Russo movie that was horrendous. I don't know the name or any of the other actors. I only know that a fortuitious case of food poisoning sent me running to the bathroom halfway through the movie. Though I spent the next 45 minutes vomiting into the toilet, I'm sure I had a better time than if I had stayed till the end.

Any movie with Madonna. (There are a couple that aren't half bad . . .)

Finally there are movies that are so bad, they're good. Any movie by Ed Wood and specifically in my book, PLAN NINE FROM OUTER SPACE. I own this movie and love the horrendous production. I love watching the movie just to catch to horrible filmmakeing productions: flaming hubcaps for flying saucers, cardboard tombstone and astounding stock footage. Also in this genre of bad movies are classics like EVIL DEAD. Of course it is also great to learn about the production of such movies and I recommend the book, "If Chins Could Kill; Confessions of a B Movie Actor," by Bruce Campbell. Fantastic!

Anyway, that's my list.

Jet
"That would have been predictable. This way it's poetry." -- Joey the Lips, The Commitments
Added on: August 7th, 2006
Angel Eyes

This movie never seemed appealing to me but I had a friend at Sony and we saw a free screening on the lot. It was so awful that literally the audience was laughing because there were so many uncomfortable moments that were supposed to be serious but just looked random and didn't fit. Jennifer Lopez is by no means a good actress but she did a great job compared to the writers and directors. I just thought the story was one of the worst I ever saw and wonder how the hell it ever got greenlighted to make a movie.

The Messenger, story of Joan of Arc was another God awful movie. I loved how in the battle scenes the blood hit the camera lense. It was hilarious and I was like, did that really just happen? I can understand that in a wartime documentary story but I didn't understand why for a 'big budget' movie they didn't edit that out. I saw this a few years back but I remember I thought it was so horrible that I made a list of 10 reasons why it was so bad and no one should waste their time and money on it.
Added on: September 21st, 2006
I have to say that the worst movie I ever saw was JFK (I think it had Kevin Costner in it)...I'm not much into Political Films anyway and I just couldn't relate to any of it....

Waterworld was pretty annoying, you just kept on saying "ffs will you find some land soon please?" LoL...but it wasn't that bad!!

I LOVE the Sound of Music!! it's a classic...!! And I can still sing along to most of the songs in it. If that makes me extremely strange well that's okay, I AM strange!! LoL
Added on: September 21st, 2006
In Search Of An Impotent Man

It was too weird, even for me.
Added on: October 1st, 2006
quote:

Originally posted by matengu:
The sound of music is terrible.
I LOVE THE SOUND OF MUSIC! I watch it every year around Christmas time. Reminds me of when my grandmother & I would watch it together and split a box of fudgsicles.
Great times, I tell you. Great times.
*****************************
I'll leave when I'm good and ready!
http://blogs.bootsnall.com/Seaward/
Added on: October 2nd, 2006
One of them...

Shakespeare in Love. I choose this with the crtiteria that it was extremely over-rated, so it seems like one of the worst movies I've ever seen.
'You're in the Matrix, Charlie Brown.'
------------------------------
Fascinating, original, hilarious. These are not words that describe my
blog
Added on: October 6th, 2006
ooh it a tie between The Beach, Vanilla Sky and Troy - which i hate admitting - anything with that many good looking men in should be great but sadly not

Michelle
Added on: October 6th, 2006
Howard the Duck.
Added on: October 11th, 2006
Natural Born Killers- I want those two hours back!
Added on: October 16th, 2006
"Can't Stop The Music" starring Bruce Jenner and the Village People.

Natural Born Killers was close. A movie that felt it was so clever that it shook hands with itself for two hours. Nonsense. But it didn't have Bruce Jenner.
Good Luck Out There.
Added on: October 16th, 2006
A Disney movie about travel in Europe, starring Fred MacMurray and Jane Wyman.
What's not to like? Everything, that's what.
Bon Voyage!
is the worst Disney film that I have ever seen. Ever.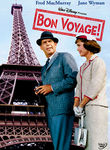 ---
Return to Travel-Related Books, Music & Movies
Who is online
Users browsing this forum: No registered users and 1 guest